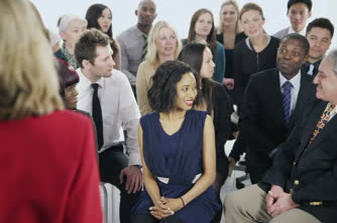 Learning to Grow Together
Chat & Chew Groups provide members an opportunity to meet new people and strengthen existing contacts through formal and informal interactions. Thus, building a wonderfully wolven boutique of viable business relationships across all groups.

Relationshhip Boutique seminars have introduced highly stemulated presentations because commuincations between groups are proffessional and productive due to each group having developed and implimented their own individualized strategies towards success.
There are many benefits to attendng a sponsored seminar.


Attending a Relationships Boutique Seminar?
Preparation is the key to getting the most out of the meeting. Listed below are multiple issues to which you will want to attend prior to arriving at the seninar.
Register for the seminar:

Be sure to register in advance! Pre-registration has several advantages: it often is cheaper, it will provide you with the abstracts and program for the meeting in advance of the event so that you can prepare, and finally, it may save you a great deal of time that you would otherwise spend in a very long registration line. If for some reason you are not able to register in advance because you missed the
Make travel arrangements:
Flights and hotel rooms fill quickly, especially the discounted ones. Be sure to make your arrangements early. Definitely take safety into account when you are considering accommodations.

The preliminary and final programs provide information on hotel cost and location. Staying in a hotel closer to the seminar site is advantageous in that you can take breaks more easily; however such hotels are generally more expensive.

Free shuttle bus service is available to designated seninar hotels. Having a roommate is another way to decrease the cost of lodging, and it has the added advantage of providing someone to discuss the meeting with.
Plan your schedule:
The most common pitfalls with regard to planning a schedule for the seminar sessions are, first, not to plan in advance, and second, to plan to do too much.

In order to get the most out of the meeting, it is essential that you plan your schedule in advance of your arrival. Review the program and the abstracts for the session and determine which events you would like to attend.

You can search the program for the meeting by keywords via the Society for Neuroscience's website. When you are making your schedule, note that there may be time required to get from one session to another event and plan accordingly.

Finally, remember to budget some time for relaxation and exercise — this will help you to recharge your energy levels so that you can get the most out of the session.
Colleagues, personal friends, family members, and casual acquaintances. The value of a large network can not be overstated.

For example, some statistics indicate that more than 75% of professional jobs are obtained through network connections, rather than through ads or employment services.

One of the great benefits of attending a national meeting is the opportunity for networking that it affords Indeed, connections of the types that begin on the shuttle bus to the hotel or while waiting in line for.

Breakfast can turn out to be extremely valuable. Often it is through such opportunities that you can meet well-known individuals who would be inaccessible in the conference center itself.
Prepare to network:
What to wear:
The goal is to be inconspicuous — not too flashy or tattered. Remember that you are always being interviewed — people are always forming impressions of you. Therefore, if you want to be treated like a professional, dress like one.

Although dresses or ties and jackets may not be necessary, we recommend that you leave your T-shirts and jeans at home. However, you will be on your feet a lot, so be sure to wear comfortable shoes.

Should you need it, a coat (or bag) check service is available at the seminar center for a small fee.

The WCE brings together groups from business industry who are interested in social and enterpreneural aspcts of collaboration. Activities take place in different settings, from work to recreational and social. The Expo has several venues for participation.
We are open to submissions from vendors and sponsors interested in participating in the 2014 World Cultures EXPO.